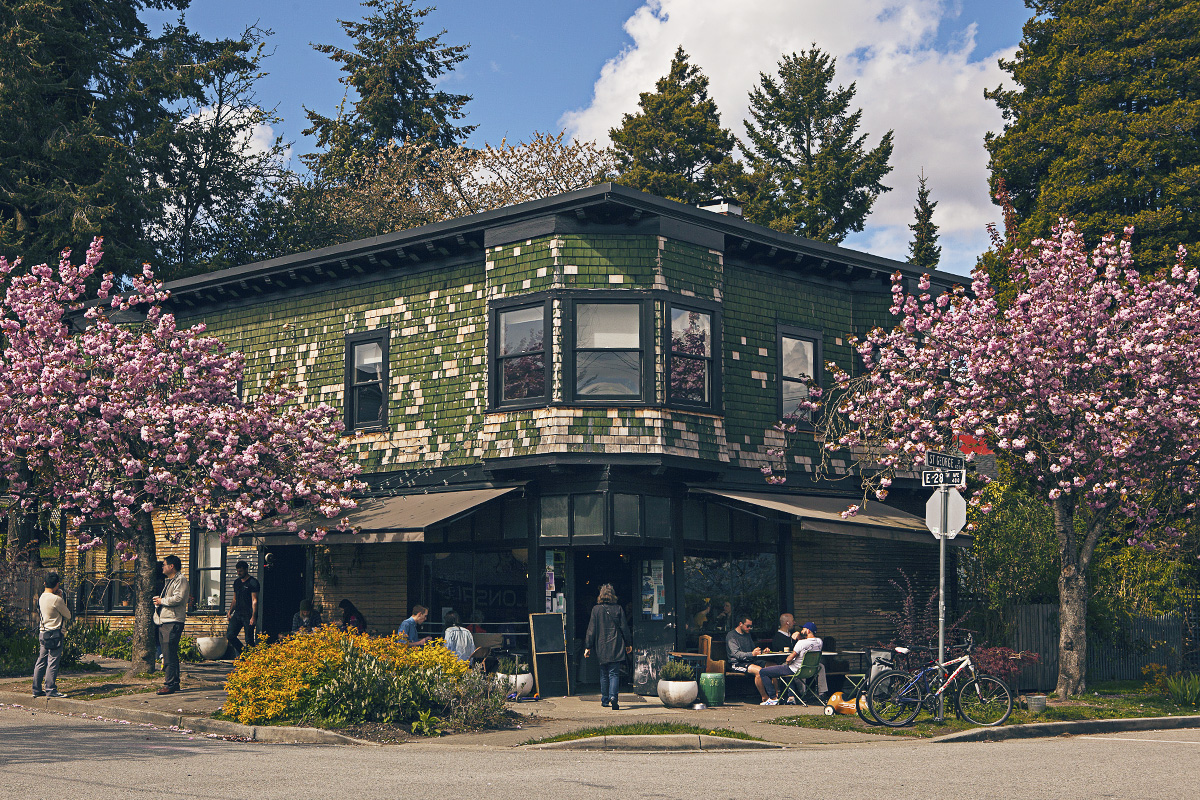 Have you ever wondered why Vancouver has so few corner stores? 
Until February 9th of this year, almost all residential zones in the city allowed for something called "neighbourhood grocery stores," but with a stipulation that these stores had to have been established prior to July 29, 1980. Neighbourhood grocery stores are very popular with local residents but because of the restrictions in the zoning code, are few and far between.
These stores are not exclusively grocery stores—some feature cafes or garden centres. It might be fair to say that the term neighbourhood grocery store might be better characterized by retail food establishments in a residential one- or two-family zone.
Using business licenses issued in 2020 from the city, and utilizing three business classifications, "Grocery," "Retail Store-Food," and "Ltd Food Service Establishment" we were able to narrow down locations that would meet this definition of a neighbourhood grocery store in RS, RT and FSD zones. Note: Higher density residential zones (like RM) are not shown—this means popular spots like The Federal Store in Mount Pleasant or Forbes and Friends in Kitsilano are not reflected on this map.
There are some interesting takeaways analyzing the landscape of what already exists. Firstly, there are only 17 stores open in the city's single family and two-family zones.
Additionally, there are clear disparities between East Vancouver and the city's west side. There is only one neighbourhood grocery store in one- or two-family zones west of Cambie Street: West Side Market on 16th Ave. Similar stores on the west side are in Comprehensive Developments, or in the occasional commercial zone like the intersection like 33rd and Mackenzie.
This is not surprising given how the city has developed since the grandfathering of these pre-1980 institutions. Older neighbourhoods in East Vancouver like Hastings-Sunrise and Strathcona contain markedly more of these neighbourhood grocery stores, boasting 4 and 5 respectively.
How these institutions will adapt as Vancouver grows is hard to predict. Best Foods Grocery on East 12th Ave was on the market for $65,000 last December, as reported by the Georgia Straight. The number of operational stores has dwindled over the past few years, and like many businesses in Vancouver, the pandemic makes it significantly harder for these smaller institutions to cope with the ever-changing retail landscape.
But hope might be just around the corner for these neighbourhood grocers! There was a small but important change to Vancouver's zoning bylaw last month. In all residential zones of the city allowing neighbourhood grocery stores, there is now no grandfathered date, meaning that new sites can be opened. Maybe the first new corner store under the zoning change will be in your neighbourhood.
Check out the bylaw change here. Check out our zoning map here.
A list of business licenses for neighbourhood grocery stores can be found here. Note: Some business licenses are under the owner's name such as Union Market in Strathcona. 
Special thanks to Jens for helping filter all the business licenses!